Guida all'ordinazione di modelli speciali
We guarantee to send the mobile phone case that meets your requirements according to the main picture of the product, which matches your mobile phone!

Garantiamo di inviare la custodia del telefono cellulare che soddisfa le tue esigenze in base all'immagine principale del prodotto, che corrisponde al tuo telefono cellulare!
1.Common mobile phone models can directly select the mobile phone model you need to order through the drop-down menu and then directly add to the shopping cart or pay!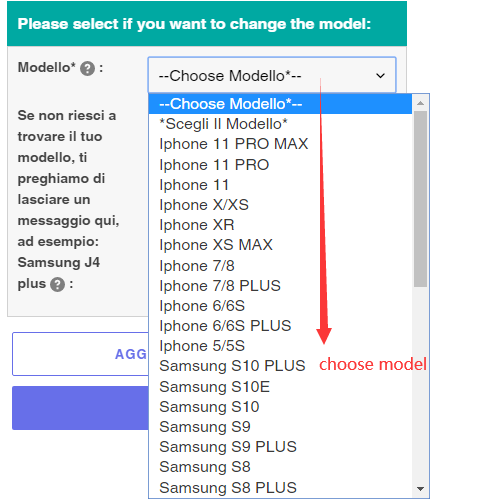 2.For special models, you do n't need to select the drop-down menu. Write down your mobile phone model, such as samsung A50 or samsung A5 2017, by sending us a message in the right box. Write it accurately according to your own phone model! Then directly add to the shopping cart or pay! By choosing one of the above two steps, we can quickly and accurately understand the mobile phone case model that your order requires, and we will ship it to you as soon as possible!
I modelli di telefoni cellulari più comuni possono selezionare direttamente il modello di telefono cellulare che è necessario ordinare tramite il menu a discesa e quindi aggiungere direttamente al carrello o pagare!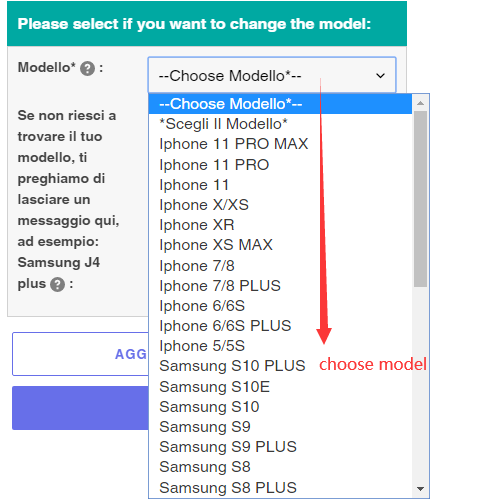 Per i modelli speciali, non è necessario selezionare il menu a discesa. Annota il tuo modello di cellulare, come Samsung A50 o Samsung A5 2017, inviandoci un messaggio nella casella giusta. Scrivilo accuratamente secondo il tuo modello di telefono! Quindi aggiungi direttamente al carrello o paga!